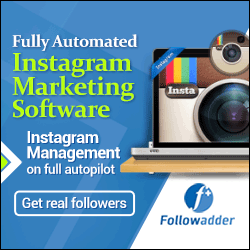 Who's got time to comment and like thousands of people's pictures a week? Yet, some of these Instagrammers seem like that's ALL they do all day long. I don't know about you, but I haven't reached the level of being able to quit my job and just be on Instagram all day. But I do know that I want the engagement that these people are getting!! 
Well, here's a little secret hack that I don't share with everyone. I found a software program that has the ability to comment and like on people's Instagrams ALL. DAY. LONG. The good news is that it stays within the Instagram parameters so your account doesn't get flagged or banned! You can also do SO much more on it like find people to follow through selected hashtags, unfollow people who don't follow you back, automatically post pictures for you etc.
This can be done with the FOLLOW ADDER software!!! 
I know this works because I instantly started to receive double the engagement on my posts!! If this sounds too good to be true, well just see for yourself!! This past September 15th I didn't know about this yet: 
About a month later I then learned how to implement the automation and my engagement started to pick up!
And now that my following has grown even more from the software, I've actually reached a post with over 1000 likes!! Never did I dream that it would be possible with the account size I had at the time!!
I'm telling you, this stuff WORKS and it has saved me SO much time! It is absolutely worth the investment! So if you're ready to increase your engagement and gain better social proof on your account, head on over to the FOLLOW ADDER website! Each day you wait, is a day lost that you could've grown your acountt!! 
TIPS & TRICKS
Once you download the software, make sure you follow these rules to keep your account safe! 
1. Do not, I repeat do NOT, have your account set on automation during the night. This obviously will not look human and can get your account flagged by Instagram!
2. Have more than 100 comments to pull from so it doesn't repeat the same thing over and over again. 
3. Make sure your comments are general enough that it won't look weird. AKA: "Awesome place, definitely want to go!" might be too specific. Stick with more "Wow, love it! What a great shot!" and you can add some emojis in there for better effect ;) 
4. Do NOT put a link in the bio right away (especially if this is a NEW Instagram account). This will put a flag on your account telling Instagram that you're a spammer. Just let your account be on automation for at least a month before putting a link in the bio just to be safe.
Now, if you want a FULL course on this that explains everything you need to know and how to successfully install the software you can purchase the course here. I highly recommend Rob Level's course, and when I got it, it was on sale for only $10! 
Goodluck my fellow Instagrammers!! 
Also check out my other post: How to Build a Travel Instagram that will Make You Money

Please read my Affiliate Disclaimer here.